It's been an age since I've done a wrap up. I think probably the last one was in January. That's because I didn't read much in February. Or March. Even April has been only okay. *sigh* Life just kept getting in the way. Anyway, here are the books I've read since January. I have reviews for most of them, so I'll link those if you are interested.
---
 Nevernight by Jay Kristoff
5/5 stars
I think this is the only book that I read in February. At least it was a good book. I loved everything about it and I cannot wait for the second one to come out. This book was just badass. I have a spoilerfree review of it, if you would like to know more.
A Conjuring of Light by V. E. Schwab
5/5 stars
The conclusion to her Shades of Magic series. It was SO. FREAKING. GOOD! I love this series so much and Victoria has been announced as a guest at YALC this summer and I just can't wait to meet her! It was such a good conclusion to such an awesome series. It made me feel feelings, okay? I also have a review of this, if you would like to know more of my thoughts.
The Waste Land by T. S. Elliot
3/5 stars
This is not so much a book. It's just a long poem. I don't read a lot of poetry, and when I do, I often don't enjoy it. This was the case with this. I felt that there was too much background reading that was necessary to understand this poem and I didn't get it. I feel like everyone should be able to take something out of a good poem, regardless of whether they've read as extensively as the poet has.
Neanderthal Seeks Human by Penny Reid
5/5 stars
This was a re-read for me. I was deeply into a reading slump and I wanted something light and easy to read, but also kind of clever and engaging. I read this book last year and was surprised by how much I loved it. I really enjoyed it the second time around as well, and it actually helped pull me out of my reading slump, at least a little. I have a full review of it if you're interested.
The Dream Thieves by Maggie Stiefvater
4.5/5 stars
This is the second book in The Raven Cycle series. I liked it a lot more than I liked the first one. I's not that I didn't like the first one, it's just that this one cleared up a lot of the things that had me confused in the first book.  It was a little bit slow in terms of the plot progression, but there was plenty of character development, so I didn't really mind. I also have a review of this one.
Replica by Lauren Oliver
4.5/5 stars
The first Lauren Oliver book I've read. I enjoyed it quite a lot, I read it in one day. I thought the way it was written was very engaging and I really liked the themes it explored. It's almost entirely character driven, so it may not be for everyone. The plot really wasn't that good. It wasn't bad, it was just meh. But I got the impression that the plot was more of a backdrop for exploring the themes the author wanted to explore, so it didn't bother me. Check out my full review if you want to know more.
Caraval by Stephanie Garber
1/5 stars
UGH. THIS DAMN BOOK FRUSTRATED ME SO MUCH! I was so disappointed by absolutely everything about this book (except for the cover). I had to skim the final 150 pages. It was just boring and badly written and ugh! I have both a spoiler free review of it and a spoilerific rant, so check those out if you want to know all the reasons for which I hated this book.
The Final Empire by Brandon Sanderson
5/5 stars
My newest obsession. This is the first book that I read this year that kept me up until 3 am. I just could not put it down. I loved it so much, I need to read the rest of them ASAP! I don't know why I haven't read Brandon Sanderson until now, but I have now joined the fanclub. Give me all the Brandon Sanderson. I have a spoiler free review of it and a spoilerific rave as well.
Stealing Snow by Danielle Paige
1/5 stars
I hated the guts out of this book. I haven't reviewed it yet, but you can be sure I will have one hell of a rant about it! It's coming. I requested this book from NetGalley in September 2016. I started reading it in September 2016. I finished it in March 2017. You can imagine how much I hated it. I almost never DNF books. I push through even when they suck. But I very nearly gave up on this one. It was horrible. I hate it. I HATE it. Stay tuned for my review.
Sabriel by Garth Nix
4/5 stars
This is a pretty old book. It feels like the ancestor of YA. It was really interesting, it follows a necromancer, which was really cool. I really liked the world and the magic and the atmosphere of the book. Unfortunately, I had a problem with the writing style. I couldn't connect to it, and that made me not really connect to the characters. Still, I will be continuing with the series, as it seems cool. I haven't got a review of this one yet, but it should come soon.
Harry Potter and the Goblet of Fire by J. K Rowling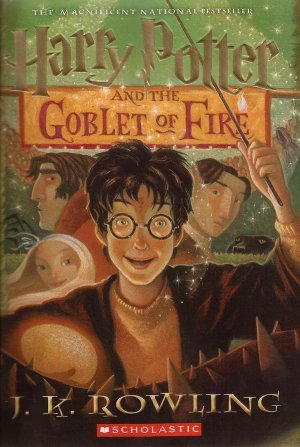 5/5 stars
I've been re-reading the HP series. I audiobooked this one this time around and found I really enjoyed it. I listened to the Stephen fry audiobook, and it's good. I'm currently listening to Order of the Phoenix. I wouldn't recommend audiobooking it if this is your first time reading the books. But as a re-read, the audiobook is great.