This meme was created by Lia @ Lost in a Story
Stats:
Books: #151-160
Last week's final number: 354 | Current number: 355 | This week's final number:  350 | Total books removed so far: 66| Total books kept so far: 94 | Books added since I began: 93 | Books read from my TBR: 22
---
Trilogia Valorilor (The Trilogy of Values) by Lucian Blaga
As with the other books of his that were on my TBR, I just don't see myself picking it up anytime soon, so I'm just going to remove it for now.
Verdict: Goes
V for Vendetta by Alan Moore

I just realised that this is actually a graphic novel. That makes me want to read it even more.
Verdict: Stays
The Strange Case of Dr Jekyll and Mr. Hyde by Robert Louis Stevenson
This is another one that I do want to read. Especially that it's so short.
Verdict: Stays
The rose Society by Marie Lu
I'm a bit torn with this one. I really enjoyed The Young Elites when I read it ages ago. But then I had to wait for this one and I never picked it up once it came out. I'll keep it for now.
Verdict: Stays
Romeo and Juliet by William Shakespeare

Honestly, I really have no interest in reading this. I know what happens and I don't find it to be such a great story and I just have no interest in reading it.
Verdict: Goes
Vathek by William Beckford
I kind of find the premise of this book really cool and intriguing and it's not a book that is often on my mind, but whenever I remember it, I'm like "Yeah, I wanna read that. That sounds cool."
Verdict: Stays
The Castle of Otranto by Horace Walpole
One of my friends read this and said she enjoyed it, but I think I'm going to give this one a skip just because I don't feel particularly drawn to it and there are so many other things I want to read.
Verdict: Goes
The Wide, Wide World by Susan Warner
I have no interest in this book whatsoever. I just don't care.
Verdict: Goes
Gates of Thread and Stone by Lori M. Lee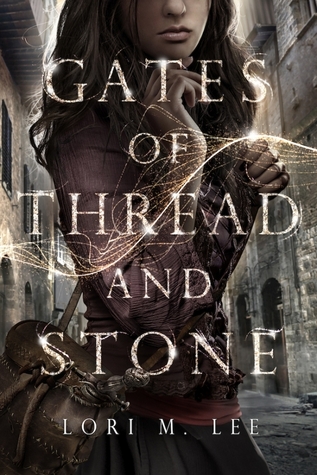 This book has a cool title and a cool premise, but based on the reviews, it's mostly just romance and I'm just not interested.
Verdict: Goes