I thought I hadn't read many books in May. It feels like I've hardly read at all. But looking back, I actually read 7 books. I mean yeah, to be fair some of these I'd started before May and one of them is super short, but still. I'm surprised.
---
The Hitchhiker's Guide to the Galaxy by Douglas Adams
First book I finished in May and it was hilarious. I'd started reading this book years and years ago, but I didn't own it until now, so I never finished it. I can honestly say it deserves its popularity. It was thoroughly entertaining, really just my kind of humour. Looking forward to reading the rest of the series. 5/5 stars.
Grey Sister by Mark Lawrence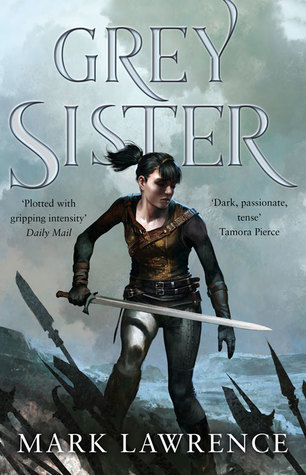 This has quickly become one of my favourite series. I listened to the audiobook of the first one, Red Sister, in April and loved it and I listened to the audiobook of this one in May and loved it just as much. I absolutely do recommend the audiobooks for this, the narration is amazing. I am so upset that I have to wait until next year for book three cause this series is awesome. It's about a magic warrior nun school… what more do you need to hear? 5/5 stars
Children of Blood and Bone by Tomi Adeyemi
This book was sadly a massive disappointment for me. It was mediocre at best, I think it suffered from a bad case of diversity hype, where a book is hyped because it is diverse as opposed to based on its merits as a book. The characters were two dimensional at best, and they were all more or less the same character. I could often not tell who was speaking. I didn't care about them, in fact they annoyed me, the relationships were rushed and unrealistic. The world was cool, but could have been much better developed and the story was… okay, but unoriginal to a fault. 2/5 stars
The Runaway King by Jennifer A. Nielsen
I've been re-reading this series and it's just as much of a delight the second time around. It's clever, witty, fast paced and all around fun to read. It's one of the more underrated series I've read. 5/5 stars
Harry Potter: The Prequel by J.K. Rowling
I'm not sure this really counts as a book, but for some reason, I'd never read the short story before. I managed to find it online and now I really want her to write that book.       😦 5/5 stars
Onyx and Ivory by Mindee Arnett
Sadly, this book wasted a lot of potential. It had a cool and original world, it had elemental magic, it had some really interesting characters and the story had the potential to be suspenseful and gripping. Instead… instead it chose to focus on one relationship that was bland, uninteresting, completely lacking in chemistry, cringe-worthy and just all around boring. And I am so mad about it. Cause I wanted to know more about the interesting characters. I wanted them better developed. I wanted this story to be told better cause it had so much potential. I do not give two shakes of a rat's behind about that stupid love story. SO MAD! 2/5 stars
Red Seas Under Red Skies by Scott Lynch
Finally, FINALLY, I have finished this book! It took me like 6 months to finish it. But I've been in an adult fantasy mood lately and I finished it at last! It wasn't as good as the first one, but I still really loved it. 4.5/5 stars